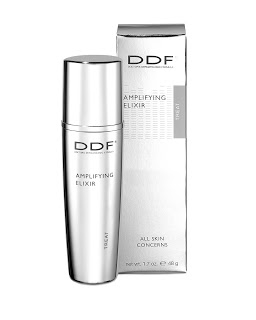 The weather is finally getting easier and breezier and I'm finding my all summer long skin care concept of just BB Cream isn't quite going to yield the dewy look it has in July and August without a little help. I've found that layering a little DDF Amplifying Elixir underneath my regularly scheduled BB Cream is just the extra kick of moisture my skin needs in chillier weather to stay hydrated during the longer-than-long days of Fashion Week, which I've now dubbed Standing All Day In Heels Week.
The consistency feels the way you'd think a hylauronic acid-heavy formula would and it easily, without heaviness. Though my feet have endured long days and miles and miles of walking logged, my skin's radiant freshness begs to differ. DDF's Amplifying Elixir has been proven to boost your skin's moisture barrier by up to 70%, and while it's hard to clock that kind of thing on your own, I noticed an absolute difference in my skin's moisture level. 
DDF Amplifying Elixir retails for $70 at Sephora.
Disclaimer: This post was sponsored by DDF, but all opinions offered are my own.
Like this post? Don't miss another one! Subscribe via my RSS feed.