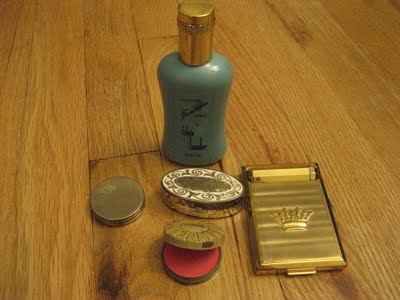 Remember I told you last summer about how I bought two vintage compacts and a '50s British Vogue at an antique sale? Well, I've acquired a few more delightful items to add to my collection. Check it (right to left):
A small circular compact purchased for me by the fabulous Keri Blair, Senior Makeup Artist for MAC Cosmetics
A vintage bottle of Estee Lauder Youth Dew purchased on eBay
A vintage 1950s Max Factor Lipstick case, containing one very ancient lipstick in red purchased on eBay
A FABULOUS Richard Hudnut gold compact with a lipstick included in the hinge emblazoned with a royal CROWN. This one was a birthday gift from the very generous Sarah
Another gift from Keri, a small pot of rouge called "Cheek Lure" from the brand Irresistible 
I keep them all on my very gay-man shelf in my bookcase.
Do you collect anything? SHARE, dolls.
Like this post? Don't miss another one! Subscribe via my RSS feed.