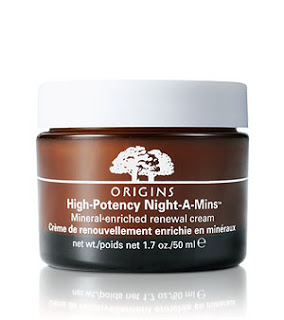 Here's the thing about freelance life–while it's pretty fabulous to have unlimited sick, vacation and procrastination days, more often than not, your clients' deadlines collide into a single day. For me, this happens at least twice a week. Also, my schedule is such that every evening, I have a beauty product launch event, sometimes a dinner scheduled as well (either working or non-working) and THEN I need to go home and do some more work. For me, the hours of 9-11:30pm are always business hours. Then, I get into bed and catch up on my favorite blogs I missed during the day (I never miss xojane.com and gofugyourself.com), THEN I read a chapter of whatever book I'm into. My average bedtime is 1am. I usually wake up at 7:30 or 8am, which is 6.5/7 hours–I do much better on 8+. But, to paraphrase a famous philosopher I know (Corona), such is "The Rhythm Of [My] Night." For the full review and how to enter to win a full-size Origins High Potency Night-a-mins Mineral Enriched Renewal Cream product and score a free sample size item, read on…

Rhythm, in the early nineties, was also a dancer and a nation, lest you forget. It's like there was a single word in song title circulation in 1994, right? Anyway, during that time I loved me some techno, and this was one of my favorite jams. And here we are in 2011 and it's germane again because the Regimen Of [My] Night now includes the phenomenal Origins High Potency Night-a-mins mineral-enriched renewal cream ($39.50), a savior for the sleep-deprived, scheduled-in-20-minute-increments New Yorker.
Here's the review on this bad boy: This rich cream boasts an oil-free formula (it also comes in a regular version as well) that belies its rich, creamy consistency that's elegantly spreadable with immediate absorbancy. The hydrator also yields a slightly herbal, vaguely citrusy scent that's subtle and pleasant. How does it work? At night, skin's metabolic rate is highest and thus, more free radicals are produced. Your skin's temperature also rises at night, causing it to lose more moisture. To take advantage of this nighttime workout, Origins' High Potency Night-A-Mins Mineral-enriched renewal cream and High Potency Night-A-Mins Mineral-enriched oil-free renewal cream were created to help renew skin overnight to reveal a brighter, younger-looking complexion in the morning. It's the skin care equivalent of your daily dose of vitamins, minerals and moisture. I especially love using it on my face, neck and decollete on weeknights, when I'm most sleep-deprived and want to wake up looking fresher than I feel.
Here's how to enter the giveaway for one of five full-size jars of the product and to score a free sample. 
Giveaway of full-size product: Here's how you win one of five jars of High Potency Night-a-mins. This offer is for U.S. residents only, please. There are three ways to enter:
1) Leave a comment below and make sure your entry includes your email address.
2) Score an extra entry for liking Beauty Blogging Junkie on Facebook and leaving a comment on the wall telling me why you want to win this Origins giveaway. If you're already a Facebook fan, just leave a comment on the wall for an extra entry.
3) Score yet ANOTHER extra entry by following me on Twitter and tweeting this: "Follow @glamber and RT to enter to win Origins Night-a-mins cream."
The deadline is 6pm ET on Friday, August 26. Winner will be contacted via email. Good luck!


Free sample: Want to ensure you'll have the opportunity to test out the product? To score a free sample, go to the Origins Facebook tab and "like" it if you don't already. Then, you'll be automatically taken to the redemption form, where you'll need to enter this code: BY55U50H5P. You will be able to get a sample until Wednesday, August 24 or until supplies run out–whichever occurs first. Samples will be sent out and received within two weeks of your submission. 


Disclaimer: Though I was compensated for this post, all opinions shared are my own. 


Like this post? Don't miss another one! Subscribe via my RSS feed.