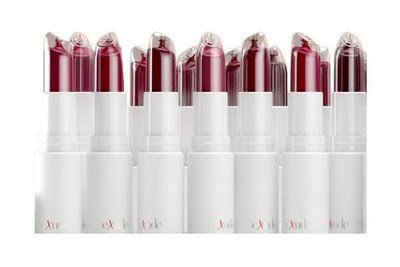 Fictionary is a column showcasing beauty-related words that don't exist, but should.
 Admit it: The best part of any relationship between you and an item of makeup is during the "courting phase," i.e., when you first use it. Like (and unlike) dating, the first time is ALWAYS the best. Few things compare to opening a new, fresh beauty product out of the box. In fact, for me, NOTHING compares to that–which is why I made it my J-O-B. The paradox is that the item most loved is the one most USED, and for that reason, it starts looking like–hell. What was once cosmetic p0rns turns into an unglamourous blob. Read on for this week's Fictionary word and to find out about Rachel Zoe's new product collaboration and her favorite beauty products…
Your MoroccanOil no doubt is losing its label and is covered with stray strands of hair. Your best Urban Decay 24/7 eye liner is shorter than your pinky at this point. And no item takes an unglamorous beating as much as your LIPSTICK. I call it fab-otage. Can't stand it, I know you DIDN'T plan it: Your favorite lipstick is screwed up and down multiple times a day and by the end of your favorite shade's third month, if it's still living, it's on its last glamorous breath. The bullet is no more, it's a shapeless stubby mass and you know you're headed for lip brush territory.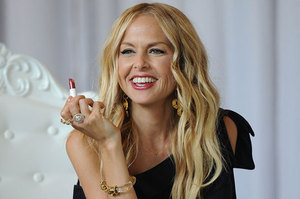 Luckily, style maven (and lipstick enthusiast) Rachel Zoe feels that, and has joined forces with game-changing lipstick brand Exude to create a revolutionary new product which NEVER LOSES ITS GLAMOUROUS BULLET SHAPE. You read that correctly. EVERY DAY IS NEW LIPSTICK DAY because the line boasts a hygienic crystal bullet through which the product is "exuded" out via a small hole that fills when you twist the bottom.
The line is available exclusively on exudelipstick.com, with the lipstick retailing at $29 each. The lip line features a lip cream and a lip gloss. The cream comes in nine shades, ranging from Nude to Cranberry, and the gloss has a five-shade range from Clear to Scarlet Red, my favorite. Lipstick-obsessed Rachel was presented with the technology, road-tested it and proclaimed it bananas. "It's like nothing else I have," she told me at the brand's launch at The Plaza. "Lipstick can get very unattractive, and the fact that this always looks perfect was very appealing to me. It doesn't dry out, which in LA is important. Dry lips in the desert–my biggest pet peeve. I've literally had more melted lipsticks in my bag–it's not cute." Which are her faves? "I live in the Cranberry and the Scarlett Red and Plum. Cranberry is my go-to."
Plus, you know I hit Rachel up about her other favorite products. She said: "I love NARS, Chanel, black liner, mascara, Nars orgasm blush, Egyptian magic, Burt's Bees and Coco de Soleil for my hair. I've shifted into stuff that's organic because my son keeps putting my hair in his mouth. I'm very different now. I wanted it very clean, very simple, timeless. Lastly, her go-to evening accessory? "If you're going out at night, you have to be rocking heels."
Like this post? Don't miss another one! Subscribe via my RSS feed.