I'd posit that 1988 was the BEST year for phenomenal Drugstore Jamz. 
I got a great taste of them because in the summer of 1988, I had the good fortune to be riding back and forth to day camp in the van of
Shari
, a counselor who had amazing taste in music and would put on
Sunny 104.5
(Philadelphia's then easy listening station) for our ride which exposed me for the first time to SO MANY songs the likes of which only grace the aisles of
CVS/Pharmacy
now. The musical stylings of
Duran Duran
,
Gloria Estafan
 (that was the summer of 1,2,3, 4) and… most importantly,
Eric Carmen
. You may know him as the singer of
Dirty Dancing
's "Hungry Eyes." But do you remember his OTHER hit, which reached #3 in 1988, "Make Me Lose Control?" If you grew up in the '80s, I'll bet you will once you listen to it below. It's one of those drugstore jamz that is so rare, that despite its top 5 status during its heyday, you'll be lucky to hear it in a
TJ Maxx
fitting room a single time in the past decade. Walk with me, talk with me back to 1988:
REMEMBER? I became totally, irrationally obsessed with JENNIFER, mentioned in the song briefly, although twice. What was she LIKE? She had THE name of the '80s, that lucky ho. She played "Uptown" on the stereo, this we knew. But what kind of MAKEUP did she wear? She HAD to be impossibly glamorous. I was convinced. Also, she HAD to rock turquoise eyeliner on her bottom lashline the way my awesome camp counselor TRACY did. Parenthetically: Yes, I'm the only Jewish girl on the eastern seaboard who didn't attend sleepaway camp. When presented with the choice, I opted for DAY camp despite the fact that so many of my friends went away as I have ALWAYS been a fan of mom-cooked dinners, television, air conditioning and sleeping late on weekends. Why live without those things in the summer, when I was positively made of time to enjoy them?
Anyway, three liners to give you that neon Jennifer eye she no doubt wore in the alternative world where she's a real person:
Urban Decay 24/7 Glide-on Pencil in Flipside ($18) Waterproof, longlasting and smudgeable when you move QUICKLY, these pencils boast one of my favorite formulas for decorating my eyes.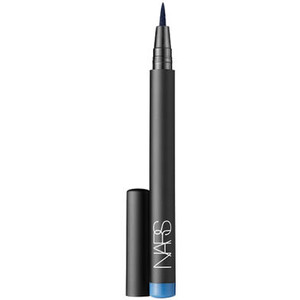 Nars Eyeliner Stylo In Blue Bayou ($27) This bright blue will add some punch to a neutral outfit in a flash. AND it's super skinny so you can liquid line and live your damn lifestyle.

Make Up For Ever Aqua Eyes Pencil In Turquoise 7L ($18) If you'd like a little sheen with your turqoise, Make Up For Ever's iteration will withstand the schvitziest day and even a swim. Princess of pigment Make Up For Ever creator Dany Sanz originally created this item for water ballet performers.
Which neon blue is your fave? And which do you think Jennifer would wear? And do you remember that song? Let a bitch KNOW in the comments.
Like this post? Don't miss another one! Subscribe via my RSS feed.