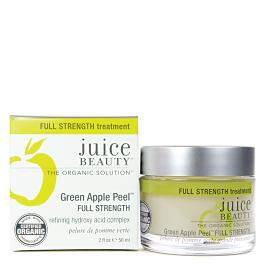 I wish I could draw a Venn diagram showing how many efficacious products are organic and natural, but alas, I'm not that savvy a designer. So I'll lay it out in the written word: Organic beauty products that do what they're supposed to are rarer than a unicorn. But Juice Beauty manages to achieve that near-impossible balance of effective skin care comprised entirely of organic ingredients. Read on…
Juice Beauty is one of the first organic skin care brands with which I became involved and my gateway product to the line was the Juice Beauty Green Apple Peel ($45) in the full strength iteration. If you have super-sensitive skin, opt for the sensitive iteration. As I am always looking to get my money's worth, I always bust out the full strength–I'm not driving, after all.
PLUS, Juice Beauty has generously offered BBJ readers a free hydrating mist with a minimum purchase of $30 purchase. The code is AMBER and it's good through June 30.
Let me know what you get!
Disclosure: Though I was compensated for this post, all opinions are my own. Juice Beauty Green Apple Peel was purchased by me. 
Like this post? Don't miss another one! Subscribe via my RSS feed.