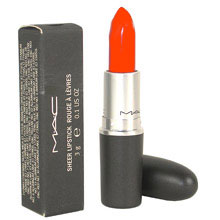 Ladies, the glamazing Keri Blair, Senior Makeup Artist for MAC Cosmetics did the makeup of yours truly for New Years Eve using a warm palette of beautiful bronzes. I made sure to shoot some videos rocking the concept so you all could see just how fabulous Keri is. I sent a photo of the completed look to Tamar who made the hilar joke that "Keri should really think about doing makeup for a living."
Well friends, because Keri DOES do makeup for a living, she imparted a VITAL lipstick tip which I'm OBV going to share with you. When you want to bring a small amount of lipstick (perhaps on vacation, or you want to give some to a friend without giving up your whole tube) simply take a butter knife, screw the lipstick all the way up, and guillotine that shiz (the lipstick bullet) from the bottom. Then, scoop the amount you'd like into a smaller pot and reattach the rest of the stick by "soldering" it together using either the heat from your fingers to join it together or with your butter knife. GENIUS!
And you'll never have to be on-call to pull your lipstick out of your purse for your friend who can't be bothered to pack some in her clutch again. You're welcome.
Like this post? Don't miss another one! Subscribe via my RSS feed.