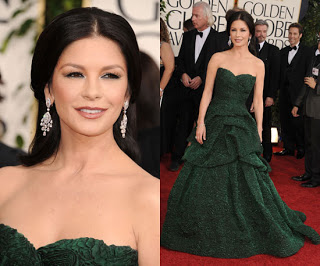 In the words of the sage Kristin Booker, don't you just LOVE that Catherine Zeta Jones always looks the part of a MOVIE STAR? Those barely even exist anymore. Either way, I thought she looked positively glamorous and gave the people something to admire on the red carpet. I got the scoop on everything from her makeup to her jewels. Makeup is courtesy of Brett Freedman. In his words, "Maybe I was inspired by Black Swan or maybe the dress was so regal that I thought I would give Catherine a little edge…a touch of wickedness.  Strapless emerald green is one of the most striking colors for a dress. Add to it lots of exposed skin and you've got a fashion firework! "

MAKEUP:
Skin: SHIMMERSKIN by Vanitymark. I prepped CZJ's skin with Dermalogica body lotion to amp up the suppleness, lightly and then added Shimmerskin body glisten to give her shoulders and arms a gorgeous glow.
Base: LORAC Natural Performance. I opted for the sunscreen version since it's very sunny here in LA today and the red carpet is long. I used shade # 3. It exactly matched Catherine's coloring. I considered doing her totally one shade lighter but felt it may look a little to 'costume-y' with the dress. 

Concealer: Cle De Peau in Beige. I used just a touch in the inner eye area to brighten and add crispness. I then used the YSL Touch in #2 to the lash line to give the shadow a light canvas so the colors would be very crisp.

Powder: DermaMinerals On-The-Go Finishing Powder. I love this finely milled translucent powder that never looks dry or flat. It leaves a nice velvety finish to make up. Perf! 

Highlighter: Jemma Kidd School highlighter in Champagne. This a great dual product. I opted to use the cream highlighter for CZJ today. Since her body was going to have a fab light reflective look I wanted to give a touch of glisten to the face. Instead of using a opal finish product to her entire face I chose just the areas I wanted to pop. I dabbed this shimmer cream to the top of her cheekbones and brow bone. I like to bring attention to features by lightening them, not just darkening them. 

Brows: Vanitymark Ultra-Brow Pencil in Milk Choco. I really wanted to give CZJ a very sculpted, defined brow. I wanted the shape to be strong and sexy but not too 'drawn on' or overpowering. I opted for a pencil color that was a shade lighter than her brow hairs. This gave the effect of a front and center brow but with a touch of softness. 
Eyes: Benefit Bad Gal eyeliner in Black, and MAC eyeshadows.  I used Wedge shadow all over the lid with smoky green accents of Greensmoke and Humid in the crease.  For mascara, I used Elizabeth Arden Ceramide mascara in black. I did a whopping 5 coats (!), curling before and between each coat. I really wanted her fringe to stand out and be noticed against the smokey, winged out eyeshadow look. 
Lashes: CZJ's perfect strip lash is Ardell #105. Not too full or long, they blend beautifully into her ample lash line. I cut them nearly in half and apply to just the corners. 

Lash curler: Shu Uemura, of course! I actually got the limited edition gold lash curler. CZJ and I agreed that it's very blingy fun!
Lips: I used MAC Stripdown lipstick with Benefit's I'm with the Band lip gloss, a golden pink shimmer on top.

Shading: Stila bronzer in #2. To sculpt CZJ's face I actually use bronzer so it will look fleshy and glowing. A sweep under each cheekbone and in the eye lid crease up into inner brow give beautiful depth. 
All by Van Cleef & Arpels.
Earrings: platinum and diamond (26.8 carats)
Bracelet: platinum and diamond (14.87 carats)
Ring: platinum and diamond (7.2 carats)
Styling by Nicole Chavez.

Shoes: Ferragamo

Clutch: Ferragamo


I thought she looked beautiful. What do you think of CZJ's look?


Like this post? Don't miss another one! Subscribe via my RSS feed.