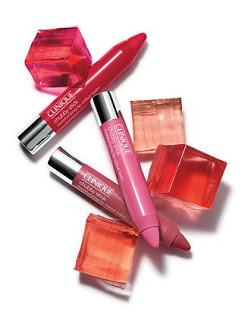 It's simple. It's gorge. It keeps my lips hydrated and manages to look Anne Hathaway-in-every-movie-she's-in natural. It's so quick, you can swipe it on mid-subway ride sans mirror. It's the Clinique Chubby Stick Moisturizing Lip Colour Balm in Chunky Cherry and it's freaking fantastic. It's much like my beloved tarte Lip Stain Pencil with Lipsurgence but a little more sheer. And the color. THE COLOR IS PERFECTION. It's so divine, I'm willing to overlook the product's Anglicized spelling of "colour" coupled with its Americanized spelling of "moisturizing."
Seriously. When Clinique gets my crazy pale-yet-olivey-yellow undertoned skin tone, they GET it and frequently design shades that TOTALLY hit the mark. See exhibits A and B respectively, Superbalm in Lilac and Almost Lipstick in Black Honey. And not only do these shades I find work for me, but they work for my friends boasting a wide array of skin tones, as well. I believe even my gal Andrea Arterbery wouldn't throw these in the ashy drawer.
 And in the highly unlikely event that Chunky Cherry isn't your scene (and trust, it is), then sugar, just dip into one of the six other options. The Clinique Chubby Stick Moisturizing Lip Colour Balm retails for $15 at Macy's.
Disclosure: Sample provided for editorial consideration.
Like this post? Don't miss another one! Subscribe via my RSS feed.