This week,
Official Mascara Correspondent Ashleigh Ciucci
tackles
MAC Fibre Rich Lash
($14). In Ashleigh's words: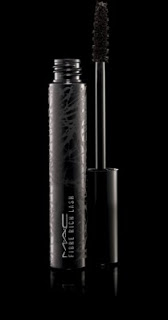 I'm not normally a fiber mascara fan. I  tend to feel it's an extraneous trend.  however, I think the applicator on this mascara separates it from it's competitors. The medium-sized textured brush with long and short bristles perfectly applied a soft and full layer of product with it's first layer. My second layer was nice at the root, but I had to be sure not to go too far with it at the tips. With too much product at the tips, this is where I saw clumping happen with the fibers.

Same goes with the touch-up midday; I found my lashes felt a little brittle when trying to apply a touch-up layer.
At the end of the night, this formula washed off with soap and water.
I might buy this puppy, but would use it on the occasion that I was going for volume and not length.
Have you tried MAC Fibre Rich Lash Mascara? What are your thoughts on it?
Like this post? Don't miss another one! Subscribe via my RSS feed.