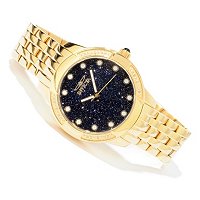 Brand name designer watches will always rage mage among suburban and urban crowds. The Invicta watches  are what I'd classify in the "heavy metal" classification of time pieces–though there are more slender, delicate pieces among the line as well. Invicta boasts a stunning appeal because they go with everything, however you can choose from their selection of brightly colored watch faces, if you're so inclined.

The brand also has a storied etymology: Invicta means "invincible" in Vulgar Latin,  and the watch was designed to bring common people Swiss watches at affordable prices. The company began its history in La Chaux-de-fonds, Switzerland–a territory well-known for its watch-making.
Boasting a huge selection for both men and women, ShopNBC is the super-site for all things time-keeping. Whether you like your watches blinged out or sleek and classic, you're sure to be impressed with ShopNBC's range of Invicta watches starting at just $113.
Disclosure: This post was sponsored by ShopNBC
Like this post? Don't miss another one! Subscribe via my RSS feed.