Sometimes, I feel sorry for the MAVs (MAC Attack Victims) because, as fabulous as MAC is (and MAC really is genius), they don't give other makeup brands the chance they deserve and focus 99% of their content solely on that brand. It's reminiscent of college students in the '90s and their all-consuming obsesh with Dave Matthews. DMB was great–but it was the default. There were tons of other bands, many of which are life-changing.
The most salient brand MAVs gloss over (ha!) is Illamasqua, a truly spectac UK-based makeup line. Ben from the now defunct We Love Beauty blog once described it as the makeup love child of NARS and Tim Burton and he was SO right.  Now, the brand has introduced its first collection of makeup for the whole body: Body Electrics. Inspired by the power of kinetic energy, the art of movement and the fluidity of the body in motion, this collection is an anthology (like the Norton Anthology) of creams, powders and dry body oils infused with light, shimmer and shine, designed to highlight and contour your bod.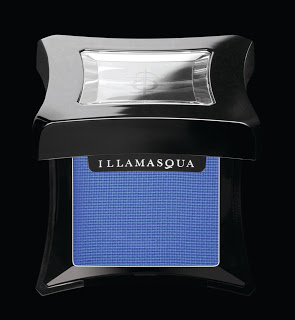 The brand sent me a couple samples from the new collection and I was WOWED by both. As my mentor S.S. Fair says, these set the world on fire. Literally: Illamasqua's new Powder Eye Shadow in Imagine ($20, pictured, right), an electric blue, evokes the searing flame of a gas burner–that brilliant periwinkle. It's a spesh shade for sure, friends. I love it as a liner for summer. Its silky, luxe fine-milled texture will win you over as it has me.
 
The second gem I'm about to use UP is Illamasqua Gleam Cream ($36, pictured, above left). MAC Senior Makeup Artist Keri Blair once shared a fabulous tip with me: Apply highlighter on the top third of the bridge of your nose to slim it without elongating it. That's exactly what I do with this pink iridescent cream highlighter. In addition, using it as a cream shadow works like a charm, as does highlighting your cheekbones and browbones. If you want to go Mach 5, mix with foundation for an immediate brightening effect. Pity the fool standing next to you at that rooftop gala who's NOT rocking Illamasqua. 
Use both together and SING the body electric…
Like this post? Don't miss another one! Subscribe via my RSS feed.