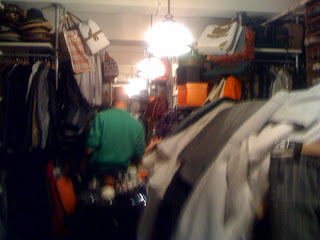 Epic night, friends.
I attended an eco-chic tweet-up at Robert Verdi's divine Luxe Laboratory in Chelsea where I caught up with my gals Felicia, Anne, Lauren, Julia and David while I learned about eco-rific Naya Shoes, which are supercute while good for the planet and hit shelves this spring. On the beauty front, W3ll People is another fantastical green brand with which I'm newly delighted. It boasts natural, safe, organic ingredients that smell really fresh and herbal. Love.
Please forgive my admittedly craptacular iPhone pics I snapped furiously whilst Robert gave me a PRIVATE TOUR OF HIS GLAMAZING CLOSET. The pic above is a view of the back half of his cavernous closet of fabulosity. Obv, that's Robert in the green. In the words of Felicia, I'll talk you through how this all came to be.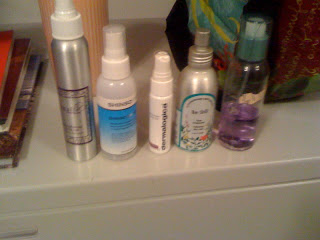 After the run-through of Robert's favorite green items, I asked him, natch, what's on his vanity? In case you've forgotten (and there's no way you could, since I've featured about 20 people thus far in the last three weeks), The What's On Your Vanity Series showcases a single beauty item the interviewee loves because it's effective, but also he/she feels he/she must keep out on top of his/her vanity because the gorgeous packaging must be displayed. Immediately upon my asking, Robert whisked me off on a private tour of his closet/office which lives on the floor above his Luxe Laboratory. And that's where the magic happens. First, he showed me what he keeps on his desk (which functions as a vanity much as his storage space in the office functions as his majorly souped-up closet–we'll get to that afterward). Robert pulled out a bevy of vanity items, all of which are toners, many of which smell of lavendar. He spritzes all day, every day. His favorite is the Shinso Skin Care Toner (second from left), which boasts anti-aging ingredients to keep his skin looking younger than an Olsen twin's.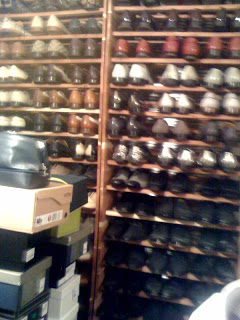 Next, we discussed the full-on fashion warehouse in which we were in the midst. Allow me to show you a most journalistic photo essay of the experience. At left, we have most of the shoes in Robert's closet. Can you even? "I'm the male Carrie Bradshaw," he joked. Said Anne when I showed her the picture, "It looks like a bowling alley!" So true.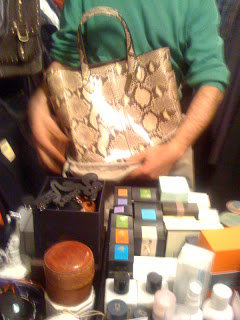 What's Robert's fave bag these days? This sumptuous python Coach tote is his current go-to.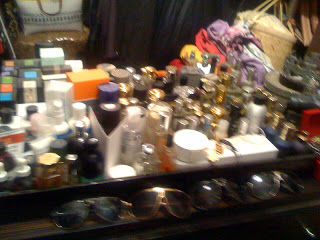 The best collection of fragrances I've seen the world over–of any male or female. Check the tiny smattering (compared to his racks and racks contained in the closet) of shades in the pic. This represents maybe .1% of Robert's collection.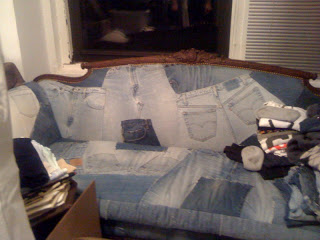 Lastly (and certainly not leastly), I took this photo of Robert's JEAN couch. He made it himself from his own retired pairs of dungarees. "Sometimes it's hard for me to part with my faves," he whispered. "So I had a couch made of the ones I loved the most." 
Thanks to Robert for the an exclusive peek into his weakness for chicness!
Like this post? Don't miss another one!
Subscribe
via my RSS feed.