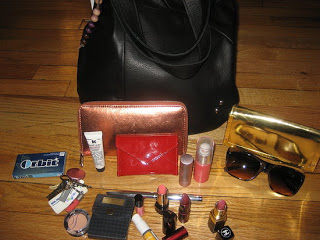 The fabulous Dina (whose name I just mistyped as Diva. I happen to know Dina is especially fond of that particular slip of the keyboard) writes one of my favorite fashion blogs (Eye4Style.com). She recently interviewed yours truly about what I'm carrying around in my bag. 
Says Dina:
The blog Beauty Blogging Junkie is a universal common denominator in beauty. Not only does every blogger that I know look up to writer Amber Katz for her grammatically correct, HILARE and pop-culture-heavy writing style, so does every beauty pro. Plus, even after the great Hair Odyssey of 2010, her locks are envied far and wide.

It's these reasons and more that made Amber the perfect subject for What's in HER Bag? In her own words, here's what she's carrying around on a daily basis in her Cha Cha leather tote:
Marc Jacobs orange metallic wallet
Orbit Gum in Peppermint (this is never NOT on Glamber)
Kiehl's Lip Balm #1 (I put lip balm on approximately 192 times a day)
Keys with Bloom Key Chain Lip Gloss in Tangerine (so I can be assured I'll always have something to put on my lips, despite that I carry around a collection of lippies that rival Bergdorf Goodman's)
Read the rest at Eye4Style!
Like this post? Don't miss another one!
Subscribe
via my RSS feed.