Dolls, check out my latest post from Daily Makeover below and tell me which item you're planning to rock for the most major date night of the year.
Whether or not you're the girl who has reservations for February 14th in July and spends hours daily on the DeBeers website designing her own heart-shaped ring, you can still embrace the spirit of cupid in these festively colored items for Valentine's Day. The traditional V-Day shades make everyone, regardless of skin tone (target of cupid or not) look pretty, well rested and aglow. Here, a selection of our favorite pretty pinks and romantic reds.
LIPS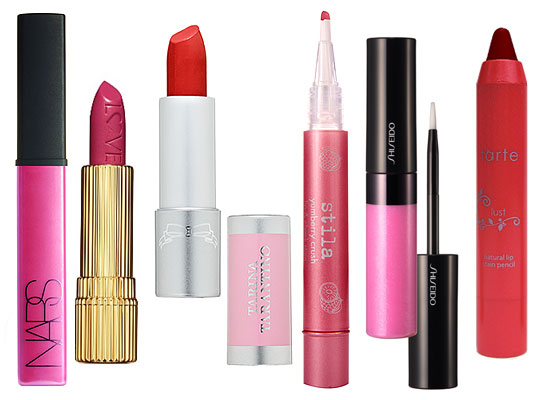 NARS Lip Gloss in Easy Lover ($24)
This sheer hot pink gloss from NARS is uber glossy and perfect for kissing.
Estee Lauder Signature Hydra Lustre Lipstick LOVE ($20)
If this isn't V-day ready, We don't know what is. Estee Lauder's smooth gliding, hydrating lip color is etched with the word "Love" on the stick itself.
Tarina Tarantino Conditioning Lip Sheen in Paramour ($22)
We love the hydration this special shade of sheer red provides. Bonus: It doubles as a cream blush under foundation for a lit-from-within glow.
Stila Yumberry Crush Lip And Cheek Stain ($24)
Stila's latest shimmery crush incarnation yields a pin-up gal glow and boasts the unique bonus of looking just as beautiful on lips as it does on cheeks.
Shiseido Luminizing Lip Gloss in PK406 ($22)
Makeup maven Dick Page created this gem as part of Shiseido's new spring line. It's deceptively moisturizing and imparts a light shimmery pink hue.
Tarte Natural Lip Stain Pencil with LipSurgence in Lust ($24)
This genius pencil stain yields the slightest bit of gloss and hydrates like a dream. It claims to increase hydration by 6,000%. We'd say it does by 5,999%.
CHEEKS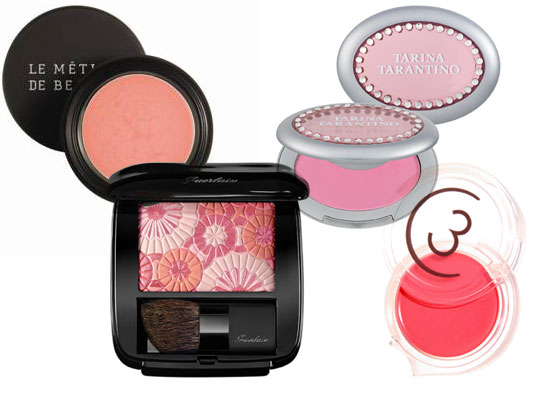 Le Metier de Beaute Blush in Poppy
This peachy pink sheer cream blush smooths on easily and yields a believable warm tint.
Guerlain Blush Eclat in Cherry Blossom ($49)
Guerlain's gorgeous palette in varying shades of peach, rose and carnation pink imparts a subtle but visible glow.
Tarina Tarantino Dollskin Cheek in Carved Rose ($32)
This sugary powder blush will tickle you pink and provide buildable color.
Three Custom Color Morning After Creme to Powder Blush ($22.50)
This cream blush morphs into a hot Miami coral once it's on your skin for a caught in the act hue à la Blanche Devereux.
NAILS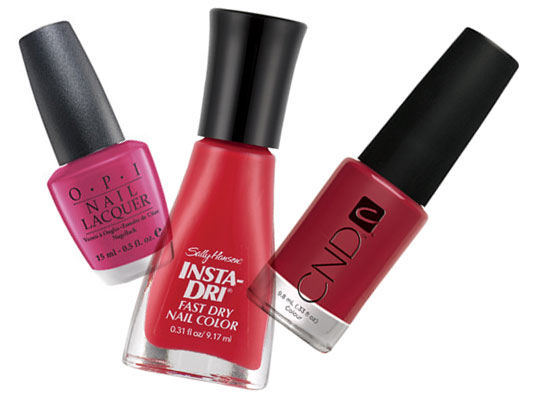 OPI Nail Lacquer in Pink Flamenco ($8)
If the weather's not warm, this sexy pink will bring a flamenco dancer vibe to the beauty story you're telling.
Sally Hansen Insta-Dri Fast Dry Nail Color in Racey Rouge ($5)
This rich '50s red polish dries in no time, so you can paint it on and then dip into your chocolates with no smudging.
CND Indian Rhubarb ($9)
CND's iteration is a deep, classic red that dries to a glossy finish and lasts a full week.
Like this post? Don't miss another one!
Subscribe
via my RSS feed.