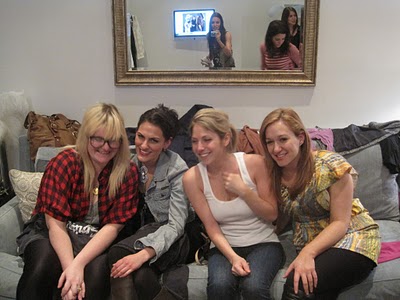 Last night, I attended an EPIC clothing swap at my gal Meghan's apartment. I brought a Laundry By Design Indian-inspired gold adorned dress and a BCBG I-work-in-a-corporate-atmosphere sweater to trade, neither of which have any place in my new lifestyle. But I went home with a delightful tan wool J Crew short-sleeved dress and a Vera Wang Lavender Label ruffled wonder of a shirt that I'm wearing as I live and type. Pictured above are Erin, my former intern Liz (Meghan's sis), Samantha and myself.
P.S. I'm wearing a print version of my fave Free People item, the Vintage Satin Dynasty Dress.
Like this post? Don't miss another one!
Subscribe
via my RSS feed.