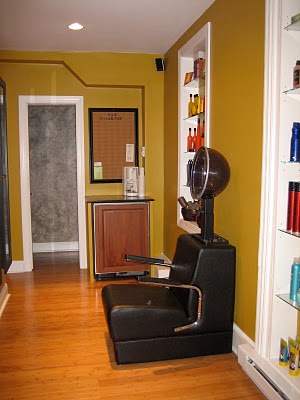 I was recently in Philly with some wicked Heather Locklear-circa –Melrose Place–the ORIGINAL–roots and needed some highlights, stat. So I hit up my friend from high school, Trish for a quick partial at her retro-chic salon in up-and-coming Ambler, Barberella Hair Boutique.
The three-chair salon is welcoming and boasts an excellent array of products. Trish introduced me to It's A 10 Miracle Leave-In Product which detangles like you wouldn't believe. Seriously. Try it out and you'll be all, It's a 10, get out of my dreams and into my car.
I left with a gorgeous blow-out, courtesy of Trish AND even had the added bonus of being able to stay and gossip about our favorite hot dudes from high school days when yet another Wissahickon High School class of '98 alumna Jenn came in after my highlights sesh for a haircut. The salon also offers the Peter Coppola Smoothing Treatment, which I plan to try after my La Brasiliana fades in a couple months.
Highlights at Barberella Hair Boutique start at a reasonable $85, so you'll still have money left over to spend on a delicious glass of vino over at nearby Deterra Wine Bar, a joint so freakishly fabulous, I find it hard to believe it establishes suburban real estate in the same town where I pick up a hot turkey hoagie at WaWa. Check out Barberella Hair Boutique: 3 Forest Avenue, Ambler PA 215-643-4066.
Like this post? Don't miss another one!
Subscribe
via my RSS feed.

*I paid for these H'lights with my own cash money