Every couturier has forever had a fascination with the mysterious and alluring qualities of lace. From Evita to marlene Dietrich to some of the best-dressed of our red-carpet modern stars, it's a long love affair. This salon-intimate collection is all about a dramatic, intense, smoky eye, with shadows that flash frosty grey to deep blue. Kohl Power is brought back for a limited time in a favorite shades plus a new blackened marine blue.
And naturally, 44 Lash adds the depth and desire. Lips stay pleasingly pale and nail lacquer in Light Affair adds ahit of danger. If ever there was a moment to do away with the winter doldrums and add some instant intrigue, this is it.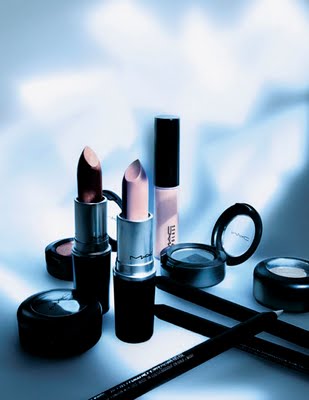 Lipstick ($14)
Pretty Please Pale Pink Pearl (lustre)
Intricate Frosted Cool Icy Taupe (Frost)
Lipglass ($14)

Icescape Sheer Pale Pink with Pink Pearl (Frost)
Utterly Discrete Sheer Frosted Cool Icy Mauve (Frost)
Eye Shadow ($14.50)

Pincurl Dusty White (Frost)
Hypnotizing Frosted Greyed Mauve (Frost)
Love Lace Frosted Mid-tone Grey-ish Blue (Veluxe Pearl)
Suave Intentions Light Frosted Silver Blue (Veluxe Pearl)
Kohl Power ($14.50)

Sense of Style Blackened deep marine blue
Raven Intense red with black pearl
Feline rich black
Eye Kohl ($14.50)

Fascinating Intense matte white
Zoom Lash ($13)

Eye Brows ($15)

Stud Deep rich blackened brown
Lash ($13)

44 Lash Unique combination of separate bundles at inner corner and dramatic winged outer corner
NaiL Lacquer ($12)

Light Affair Creamy pale grey taupe
The MAC Love Lace Collection is available at all MAC locations in North America as of December 26.
Like this post? Don't miss another one!
Subscribe
via my RSS feed.