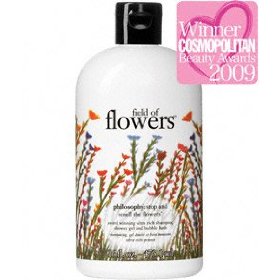 Philosophy Field of Flowers Bath & Shower Gel smells just like a veritable field of flowers. I know! But freals. This gel toes the line between fab florality and eau de Golden Girl… but stays within the limits of subtly delish. To me, the scent is reminiscent of one of my first beauty purchases: Bath & Body Works' Flowering Herbs Shower Gel, a long-since discontinued fragrance from the days of the brand's inception. In typical Philosophy fashion, it froths with fantastically satisfying foam. Its fuller than full size bottle will last you a long damn time making it a fairly economical purchase for such a luxury product. And what's prettier than that packaging? I can think of few things, doll. Few things.
The scent, with its vague retro sophistication "reminds us of all that was once good and could be once again," in the words of Field of Dreams' Terence Mann.
Philosophy Field of Flowers Bath & Shower Gel retails for $16 at philosophy.com.
Like this post? Don't miss another one!
Subscribe
via my RSS feed.