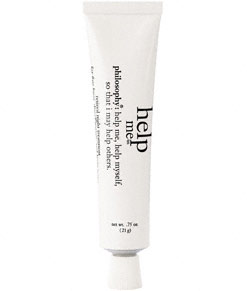 I don't know if you're, I don't know, IN THE MARKET to reduce fine lines and visible signs of aging whilst launching a guerrilla war against acne with miracle ingredient Retinol.
I mean, I don't know your life. Maybe you're cool with your overgrown pores large enough for an Oompa-Loompa to establish residency. Perhaps you're not interested in trying out this product which literally digests blackhead innards and creates a smoother, decongested skin surface while you sleep. How could I guess if you'd be into its patented, time-release system that allows the retinol to be gradually infused into your skin to ensure less irritation? Who knows? How can I sell you on waking up every morning with dewier, more youthful-textured skin? This is America. You make your OWN decisions.
But seriously? Do yourself a favor and invest in some Philosophy Help Me ($38), the end-all, be-all of night treatments. My pores are smaller AND my blackheads are in the process of being cleared out. Two small miracles.
And tell me: What night cream are you using that's so good, it's inspired you do to an interpretive dance about how it makes you feel? Go.
Like this post? Don't miss another one!
Subscribe
via my RSS feed.