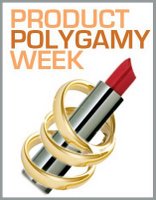 Happy Friday, dolls! Are you as over this week as I am? I hope you have fantast MLK weekend plans. Mine include a fam party in central New Jersey to which I'm going to somehow figure out some transportation, a LOT of laundry, some movies (I saw Revolutionary Road last night – depressing, but the flick featured some awesome retro hair and makeup), and some blog writing. I'll be posting my full interview with LOST makeup artist Emily Katz on Monday, so check back in then!
Yay for THAT AND for the season premiere on Wednesday, which I will be taking in with my friend Lauren at our favorite LOST bar. This bar shows new LOST episodes in an enormous room with couches and provides shots every time someone says "The Others" and free drinks anytime someone gets killed. It's AMAZING.
Anywho, I digress. Product Polygamy Week concludes with the Bath & Body category! Oh, and thanks to the hilarious Beth Shapouri who writes for the Glamour Girls in the Beauty Department Blog for giving Daneen and me a shout-out yesterday!
Here are the B & B products I've decided deserve Barb, Nicki, and Margene status:
PERFUME
The Barb: Burberry Classic
The Nicki: Jo Malone Lime Basil & Mandarin Cologne
The Margene: Fresh Mangosteen Eau de Parfum

SHOWER GEL/SOAP
The Barb: Organic Apoteke Body Cleanse Gel in Sicilian Orange & Mandarin
The Nicki: Kings & Queens George III Lime Shower Gel
The Margene: Philosophy Falling in Love Perfumed Shampoo, Shower Gel and Bubble Bath

LOTION/MOISTURIZER
The Barb: Kai Body Butter
The Nicki: BODY by Sonya Dakar Nourishing Body Oil in Verbena Cypress
The Margene: Biotherm Baume Ultra Riche

HAIR REMOVAL
The Barb: Whish Shave Crave
The Nicki: Venus Embrace
The Margene: Eos Evolution of Smooth Ultra Moisturizing Shave Cream
Don't forget to head over to Spoiled Pretty to check out Daneen's Bath & Body Polygamy Week final feature!