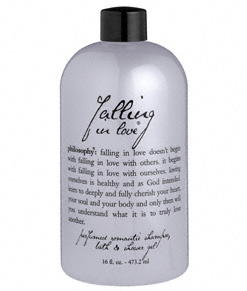 Philosophy's Falling in Love Perfumed Shampoo, Shower Gel and Bubble Bath ($22) is the perf "wind-down" nighttime shower accoutrement. I LOVE the way this stuff smells. Love. It's very subtle and sophist [side note: do you not ADORE "sophist?" My work friend Michael came up with it.] and inspires romantical behavior. Yes, I realize that's not a word.
A hot shower before bed plus a pillow spritz of The Body Shop's Deep Sleep Dreamy Pillow & Body Mist ($16) smells fresh and calming and ensures sweet dreams will ensue.
I'm a night showerer (most of the time) because of my hair vanity situation. I just can't spend that kind of time in the morning straightening this haystack in addition to everything else. I also like to wake up as late as is humanly possible so I typically pick out my clothes and get everything I'm taking to work in the morning ready by 11pm the night before. In the morning, it's a mad rush of face washing, makeup and super-speedy hairstyling. What's your shower routine? Let me know!