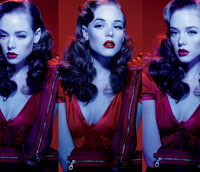 To me, MAC's Adoring Carmine collection is just so Dita Von Teese. P.S. MAC's ad on the left is actually for their Red She Said collection (or as Annie of Blogdorf Goodman calls it, their Right Said Fred collection – hilar). I just think it's GORGE and had to feature it.
There are two things to note here. First: Carmine, JIC you didn't know, is a deep red color. It's sometimes achieved by boiling dried insects in water to extract the carminic acid and then treating the clear solution with alum, cream of tartar, stannous chloride, or potassium hydrogen oxalate; the coloring and animal matters present in the liquid are thus precipitated. Cra, right? Makes it a pretty unlikely inspiration for a cosmetics collection. Second: My favorite television character, Amanda Sommers' (played by the talented and lovely Becki Newton) fave fall color is pale carmine.
I especially am enamored with the 3 Red Lips Set ($34.50) and the 4 Face Brushes Set ($49.50).

The 3 Red Lips Set includes a small drawstring purse of red-orange patent with wine satin gusset sides. Inside are two full-sized Lipsticks in glossy wine-red packaging: Adore It and Racy; and a mini Lipglass with a glossy wine-red cap in Frostlight. The lippies are just dying to accompany you to your hopefully-not-canceled holiday party. Limited edition, so get on it.

The 4 Face Brushes Set is a medium-sized round brush bag in wine-coloured satin with red-orange patent zipper enclosure and wristlet. Also includes a fabric brush holder with five professional metallic red handled brushes and a gloss black M∙A∙C logo: the 168 SE, 187 SE, 190 SE and the 194 SE. This brush set is PERF for travel. Limited edition as well.
Get both here.