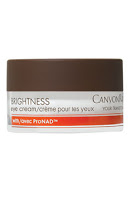 Eye creams that claim to diminish dark circles are as common as dudes who claim to be 5'11". 5'11", dolls, is a bullshit height. It's not exactly 6″, which constitutes "tall" in the minds of guys. 5'11" successfully encompasses everything from 5'5″ to 5'10." Guys who are really 5'11" (and I feel like they're sort of rare) say they're 6 feet tall. Any taller than that, and guys start telling the truth. Take this from someone who's been set up with several "5'11″ers". When I hear that a dude is 5'11", I rock my flats. I'm 5'5″.
Similarly, SO MANY eye creams claim to rid you of dark circles. Out of the bazillion I've tried in my lifestyle, I can only think of two that actually reduce them visibly. One is Hylexin and the second is Canyon Ranch "Brightness" Eye Cream ($70). It's not cheap, but it delivers. It provides ample moisture, something Hylexin doesn't yield enough of, in my profesh opinion. Peptides plus vitamin C quickly illuminate dark circles. A caffeine complex deflates eye puffiness while reinforcing elasticity. Light-diffusing micas provide a "soft focus" effect to minimize fine lines.
Use it and be just a little closer to achieving a Rhianna level of skin perfection. I cannot get enough of TI's song Live Your Life, featuring her. I would posit that Rhianna is the most beautiful girl in the world. Check it:
Try it "and then you'll see, you're gonna go far." Well, with regard to eliminating under-eye circles, anyway.