How was your weekend, dolls? Mine was fantastic. I indulged in some "H lights" at Hiro Haraguchi with my colorist Jane, who provided me with some toned-down autumnal buttery blonde streaks, enjoyed a brunch with my friend Stacey, and enjoyed far too many drinkie poos with my friend/entertainment editor Lauren. Anywho, I have to tell you that my fave products of the weekend are those of the lime-scented variety.
My love for lime-scented items is real and it's deep, just like the great Grace Adler of Will & Grace said of Jews' love for chicken.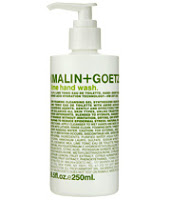 Malin + Goetz Lime Hand Wash ($20): I currently have a sore throat, so I've taken to citrus infusions in all forms – a strange amount of orange juice, grapefruit in the morning, and lime hand wash! Yes, $20 is indulgent, but as a little gift to yourself, this one is a tiny bit of luxury that will do wonders to make you feel like you've entered a new tax bracket.

Jo Malone Sweet Lime & Cedar Cologne ($55): This invigorating fragrance is perfect for fall. I love that the sweet citrusy lime is tempered by nutty cedar. For extra citrus in my "olfactory diet," I pair it with Jo Malone Grapefruit Cologne. This combo is deadly with a fall courduroy chic little ruffly blazer and a lightweight scarf. Just saying.