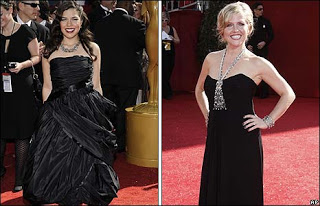 Serendipitous morning, gals! Last night I watched the Emmys whilst catching up via Gchat with my freshman dorm friend Justin and (unlikely BBJ reader!) who now teaches English to children in Seoul, Korea.

I was totes captivated by two 'dos in particular: that of Heidi Klum and America Ferrara. It seems I dig some old school Veronica Lake waves, n'est-ce pas? As luck would have it, my inbox featured two emails full of instructions about how to get both glamorous gals' looks. Love it when that happens!

For America Ferrara, hairstylist, Daniel Howell created a modern day Veronica Lake with heightened definition and a defined wave pattern. Accented with a strong side part and pull back to one side.
How to achieve the look: Start by applying Fekkai Coiff Defense Thermal UV Protectant to wet hair.   Brush from roots to ends with the Fekkai Classic Brush. Spray Fekkai Coiff Bouffant Lifting & Texturizing Spray through out and dry hair. Side story about this stuff: it's AMA. Fab stylist Yuko at Hiro Haraguchi used this stuff on my hair when she blew it out on Saturday by spritzing sections AS she dried it as opposed to an all over spritz before beginning the process. It made a HUGE diff. Anyway, back to America. Using a ¾" curling iron, start at the nape of the neck and wrap the hair from middle to root. Make sure all the hair is going in the same direction making it a repetitious pattern. Then use the next size curling iron on the ends of the hair. Go through the entire head from right side to left side. Clip the hair into desired waves close to the scalp. Remove clips and brush out curls for a soft finish. Set with Fekkai Sheer Hold Hairspray. 
Stay tuned for a how-to on Heidi's 'do!