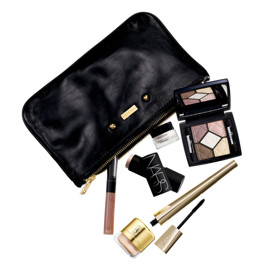 Beauty and Fragrance lovers: Saks.com's virtual video how-to's have arrived! Saks.com is the 1st luxury retailer to showcase a video catalog. So this fall when your reader's are looking for advice on how to achieve the "polished face" they can sign onto Sak.com and watch as skin specialists demonstrate the techniques with your favorite beauty products. 

View the New Video Catalog on Saks.com here.
Also, Saks.com is offering a special Marc Jacobs-designed limited edition leather clutch in dark navy, containing YSL, Dior, Guerlain, Nars, Armani and CHANEL products  for $198.
Enjoy!