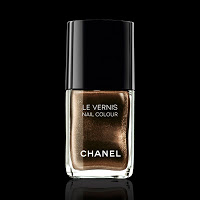 CHANEL and SEVENTEEN are proud to announce the 2008 winner of the CHANEL Colour of the Year Contest. Amy Gonzo, 19, of Port Washington, WI, created Haute Chocolat, a GORGE shimmery brown nail lacquer with flecks of gold. It was inspired by her favorite holiday drink, hot cocoa, (she even named the shade herself!) and is available in October 2008 at department and specialty stores nationwide as well as on CHANEL.com. Isn't that story darling? I'm so happy for Miss Amy Gonzo! She must be ecstatic. P.S. I saw this shade in person (and on Erika's nails!) and it's TO DIE. I'll be rocking it this holiday season for sure.
Thousands of entries were reviewed by Seventeen and CHANEL to determine the selected winner whose shade name and inspiration would be launched exclusively in the United States as part of the limited edition CHANEL Holiday 2008 Makeup Collection. The winner will be officially announced in the October 2008 issue of Seventeen (on newsstands today).
Since the introduction of the INFAMOUS Vamp in 1995, CHANEL has become famous for trend-setting, cult classic nail colours. My personal late 90s fave? CHANEL Ciel de Nuit, a sparkly navy blue I wish I still had. Haute Chocolat, destined to be a sell-out shade, will retail for $20 and be available from October through December 2008.
Will you be purchasing Haute Chocolat? Tell us in the comments.