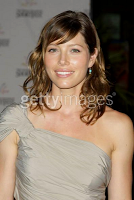 Making her red carpet debut for a screening of her new movie, Hole in the Paper Sky, Jessica Biel showed up looking every ounce the bombshell wearing Stella McCartney. Her hair and makeup artist for the evening, Brett Freedman, shares his secret for adding a little "pop" to a neutral dress:
"The night of Jessica's screening was hot and humid, so we aimed to make her look polished but not overdone. The Stella McCartney dress was beautiful, but that beige/nude color can often make skin look washed out, so I needed to make her face luminous. Her skin is naturally flawless, so all she needed was a light touch of Neutrogena's Healthy Glow Sheers in Medium and a little bit of Prescriptives Concealer. I applied Rimmel's Colour Rush duo in Metallic Pearls to her lids with a little bit of water to create a dewy sheen. To give her cheeks just a hint of blush, I lightly applied Benefit's Cream Blush in Illium and gently filled in her brows with Vanitymark Brow Pencil in Blondie before coating her lashes with Vanitymark "The LASH" Mascara in Blackest. Benefit's Her Glossiness in "Kiss You" had just the right amount of lilac pigment in it to make the face appeared more 'dressed up.'
"We kept her hair super-casual and created waves with a 1-inch curling iron all over. We lightly misted with hairspray before tousling to make it look as though she came straight from the beach to the premiere!"
I can't figure out what I like more: her beauty concept or her fashion one! What say you, gentle reader?
Image credit: Getty