Origins Modern Friction $37): I adore this natural alternative to microdermabrasion. Includes smoothing rice starch suspended in a not-too-rich cream to rapidly remove old skin cells. Lemon oil revitalizes skin for an illuminated appearance. Post-scrub, my skin feels smooth and hydrated – never dry or irritated. LOVE.
Jo Malone Lime Basil & Mandarin Cologne ($55): First of all, if you're not on board with Jo Malone, you need to GET on board, because it's the olfactory equivalent of a Mercedes Benz. Second, I've heard so many people extol the virtues of this scent, but it was clinched for me when Jean Godfrey-June, Beauty Director of Lucky, raved about it after attending a Jo Malone event. And since I pretty much try to do everything JGJ does (seriously, her column is a MUST READ. She's subtly hilarious and I've read her book, Free Gift with Purchase, twice.), I made it my biz to try out the scent for myself when I hit up a Jo Malone Holiday Preview event last month (stay tuned for details on that!). Its citrusy sweetness is tempered by peppery basil, white thyme, and a non-hippyish patchouli.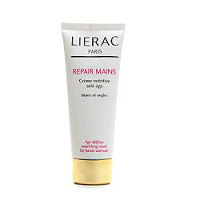 LIERAC Paris Repair Mains Anti-Aging Hand Cream ($26): This nourishing cream smells uniquely French to me. It absorbs in a manner très vite and leaves hands smooth and hydrated, not greasy nor… wet. Don't you hate a hand cream that leaves your hands MOIST? This one provides just enough moisture so that you can apply and swiftly get back to work. It also includes repairing shea butter, petrolium and vitamin A. Bonus – it's just as good for nails as it is for hands. Available at Duane Reade, CVS, Brooks/Rite-Aid, www.beauty.com, www.cvs.com> www.lierac.us.