Origins Sunny Disposition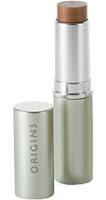 ($20) is what I'd categorize as a blonzer: it's a pinky-brown blush/bronzer hybrid. It glides on to highlight cheeks, chin, forehead and nose just the way the sun would. Includes antioxidants, lecithin, soybean and aloe. I like to carry it in my purse for mid-day touch-ups.
June Jacobs Lemon Sugar Body Polish ($46)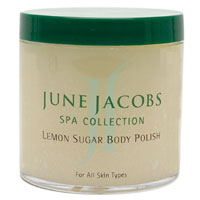 Lemon sugar is my one of my fave combos after lemongrass verbena. Huge skin-scouring sugar granules steeped in oils work to smooth away dry flaky skin. It's more scrubby than oily, though. Despite its added oil and fragrance (which smells divine) I still use this one before self-tanning (you're supposed to use plain, non oily scrubs before self-tanning). The results are PHENOM. Its tart scent is reminiscent of one of my fave perfumes, Fresh Lemon Sugar.
SENSA ($35 a month)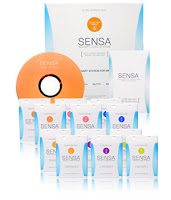 is not really a diet. Here's some background: according to neurologist Dr. Alan Hirsch, who presented at Total Beauty's Beauty Summit in May, sprinkling these calorie-free flavorings on foods can help people feel full faster and lose weight. Hirsch was intrigued by the fact that people who lose their sense of smell and taste from severe head injuries often gain weight rapidly. He created crystals he calls tastants to stimulate the sense of taste and enhance a food's flavor. He asked 1,436 overweight or obese men to sprinkle the tastants on all their food for six months but not to otherwise alter their diet or exercise habits. At the end of six months, those who had stuck with the tastants lost an average of 30.5 pounds or about 15% of their body weight. A control group of 100 people who used non-flavored crystals that looked like tastants lost an average of 2 pounds over six months.
My experience: I've been using these tastants on much of my food for the past month and I have to report that I've had pretty phenom results. I feel sort of, I don't know, Hansel and Gretel telling you that I simply pour sprinkles on my food and feel full more quickly. I've noticed it's given my weight loss a jump start. I'd been low carbing about 80% of the time for about six months, so I'd lost, maybe 10-15 lbs from that. Which was fab. But in the last month? It's like my diet was suddenly on steroids or something. I don't weigh myself, so I don't know exactly how much. But there's been a definite decrease that I'd estimate is about three to four pounds in the last month that I can only attribute to SENSA. That's the only thing I've been doing differently. I haven't even been sprinkling it on ALL my meals: probably only 70% of them. The cons about SENSA? Only the usual ones for any diet/change of eating habits. You have to TALK about it all the time. When I bust out my SENSA salty/sweet shaker, I have to tell the whole TABLE what I'm doing. And inevitably, somebody who knows nothing about anything tells me how BAD it must be for me. I've been on MILLIONS of diets, friends. But I have to tell you, the only reason they don't work for me? Is having to DISCUSS it all the time. It simply becomes embarrassing. People are all up in your food lifestyle. It kills me. So that's really the only drawback. I've noticed that I still clean my plate (I'm one of THOSE people) but I rarely want seconds (a def improvement!) and I rarely crave a late night snack, as I had previously. I can't guarantee they'll work for you, but I've seen results and as I said, that's the only change I've made in the last month. All I can tell you is that suddenly, none of my dresses seem SHORT enough. And that's a welcome change, indeed.
In other news, it's DEFINITELY time for highlights, dolls. Do you live in NYC and have a colorist to recommend? Tell me who's painting your strands in the comments.