Hey, gals!
I just got back from my friend Bonnie's wedding in DC, an automobile ride (from DC to Philly) and a train (Am(b)trak – Philly to NYC) ride later. I had a phenom time with my high school gals, Lee, Ang, and AlliSAN at the wedding. Storytime: I once convinced an entire high school house party that my friend Allison is half Japanese (she very clearly is NOT – she's of Swedish decent, mmkay?) and that they must call her AlliSAN and bow their heads when addressing her out of respect. Anywho, AlliSAN now is a mother of two and lives in NEBRASKA so it had been a full five years since I'd seen her! It was great to catch up.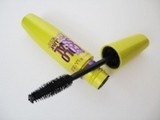 I forgot to pack my faux lashes, a wedding standby, for the event. Luckily for me, I DID remember to pack my new fave mascara for SERIOUS volume, Maybelline The Colossal Volum' Express. I love it because it's a wetter mascara and it really does give the illusion of added lashes. If it's length you're looking for, keep searching. But if you're seeking volume, you've come to the right place. Two coats yields a blacker-than-black fringe. And I'm LOVING the yellow and purple packaging. Supercute. Hits stores July 1st!
Natch, I was selected as executive makeup putter-oner for Bonnie (the bride) and Anne (the maid of honor). On both girls, I used my fave lasts ALL NIGHT LONG eyeliner, Bobbi Brown Longwearing Gel Eye Liner in Graphite Shimmer Ink. This shade is a deep, shimmery charcoal grey, great for my two "clients" as neither are big makeup wearers and would have felt is if they were playing dress up wearing straight-up black liner. I also used BeneFit's Posie Tint on both gals' cheeks and lips for long-lasting pretty pinkness. I also used it on myself, as I was rocking a kelly green dress and thought it would be fun to go Lilly Pulitzer on this partay, as I was in Pastel and Pearl Country.
What's your favorite makeup item to wear to a wedding? Tell me in the comments!