Knot Heads ($10 for a set of six short ones)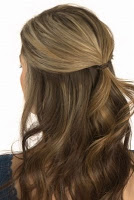 The one caveat: they take a bit of practice to learn how to use. At first, I had a very Pretty Woman Vivian-at-the-Opera moment and was all, "These are broken. Mine are broken." (My friend Lauren revived that vintage quote and I've been loving it of late.) They sort of remind me of pipe cleaners but with added utility because they're designed to hold your hair. They come in two lengths, short and long. I'm loving short to twist up half of my hair. I like using the blondish-colored one so it blends with my strands. They cause fewer snags than an elastic and look supercute. BBJ readers can get 15% off at Knot Heads with the code "junkie".

Arbonne NutriMinC RE9 ReGain Illuminating Enzyme Peel ($40) My fab friend and former college roommate Leah gave me this gem of a night cream as a birthday gift. I was all, Leah. Of all the things to get me, you chose a SKINCARE product? I'm up to my EARS in skincare products right now. And I rarely even USE night cream. She assured me this was worth it. And is it EVER. I'm now a night cream CONVERT. I've been using it nightly and I awaken with smoother, softer, glowing skin. It contains natural fruit enzymes from African papaya and Far East pineapple that gently exfoliate to reveal a more even complexion.

NARS Lip Stain Gloss in Pampa ($24)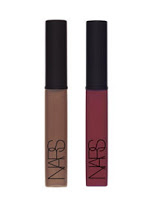 Pampa is pictured on the left, BTW. This lip stain/gloss hybrid has only been a part of my lifestyle a whole 12 hours, but I am in LOVE with it. NARS has long since been my fave EYE makeup brand, but they're now dipping into my lip stain category, as well. This matte lip color is MOIST but lasts forevER. Just how long? I put it on last night at 7:30pm at dinner with my friend and yet another former college roommate Julia, came home, tried in vain to get my laptop to work (for real? It's broken. These are broken. Mine's broken. This upsets me to no end, as you can imagine. I'm calling the geek squad tomorrow). Then I took a shower (during which I WASHED MY FACE) and then dried my hair circa 11:30pm and MY LIP STAIN WAS STILL INTACT. Are you sold? You should be.