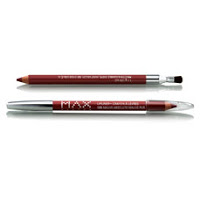 Guys, tomorrow is the TEN YEAR anniversary of my high school graduation. In fact, when I dreamed about my ten year reunion (mine actually occurs around Thanksgiving), I so envisioned playing a Lisa Luder Romy and Michele's High School Reunion type of role. In fact, if we went to high school together and you're not into the movie, don't sit by me. I'll be quoting it ALL NIGHT LONG. On my way there, I'm totes ordering the Business Woman's Special. Try and stop me. "Isn't it weird when you're not friends with your friends anymore? I mean, Michele and I just fell out of touch about two hours ago."
My 1998 lippie of choice? Max Factor High Definition Lip Liner in Nude ($5) with some balm layered on it. My 2008 lippie of choice? Still Max Factor. My signature high school move was rocking it in my back jeans pocket so I would be ready to wear it at a moment's notice. Many a rumor was started from my perfectly lip-lined mouth. But only about those who deserved it, I assure you. For full-looking defined lips, I use this pencil like a lipstick – I thoroughly fill in the lip before coating with balm or gloss. It's MY (and maybe your?) lipcolor only better. Use the attached brush at the end to apply gloss that lives in a pot to avoid a messy-on-my-finger situation.
What's your favorite high school makeup item? Tell me in the comments. Go.