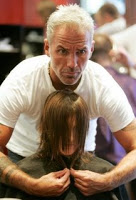 Dusty Simington, George-Hamilton-tanned hairstylist from Salon Gregorie's in Newport Beach, CA also presented at Total Beauty's First Annual Blogger Summit.
Some hilarious Dusty quotes from his presentation:
"If you're unattractive, you're stupid, because there are so many great products out there."
Dusty also dismissed Katie Holmes' popular mom bob, remarking, "If you see it, kill it."
He'll soon be starring in a reality show called Making the Cut. I'll so be watching.
Click here to enter Total Beauty's contest to win a Saturn Vue Hybrid.