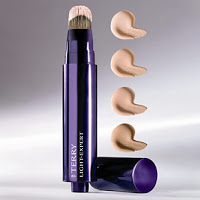 The title refers to my weird handicap of not being able to produce the appropriate alphabet-related word that goes with each letter when you need to spell something out for someone. For some asinine reason, I can ONLY come up with the most inappopriate, ridiculous words. Empirically, I know it's "D as in David"… but when I'm in the moment, all I can think of is "D as in Dippin' Dots." Or something equally stupid. Anyway, once I was spelling the name of an employee when I was creating a name badge for him at a conference at my last job (a big 4 audit firm) and "D as in Denise Richards" came out. Needless to say, the employee was quite taken aback.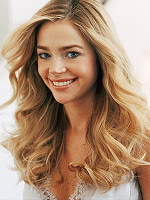 So I got word that on the set of her new show, It's Complicated, Denise is using VIP Expert by Terry Light Liquid Foundation ($48). I've tried this stuff out at Space.NK, and it's pretty divine. It comes in a big, fat purple-for-Prince click-pen and absolutely erases away imperfections, dull skin, and shadows. It includes hydra-smoothing hyaluronic acid microspheres that blend into the skin tissues. It also houses a skin-plumper to target hollow areas (expression lines, crow's feet, creases, etc.) and expands with water to recreate volume. The best part? The foundation's anti-aging youth catalyst composed of seven anti-aging substances. Which are apparently secret, because I can't find out what they are for the life of me.
Other Denise faves? I hear from my little bird that she also loves Laura Mercier products (that's what her makeup artist uses on her) and a vast array of bronzers, which comes as no surprise. She's always tanned up to the max.

Photo credit: people.com

Click here to enter Total Beauty's contest to win a Saturn Vue Hybrid.