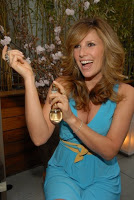 As I mentioned, Daisy scored me an interview with her colorist and stylist of ten years, Rona and Luke O'Connor. The two are married and are also the owners of Lukaro (a combo of their names), a salon in Beverly Hills.
Rona O'Connor has been imparting various shades of blondes and darker browns on Daisy for years. Right now it's sunflicked, meaning that she painted the color on her hair like a starburst across the whole surface so it looks like sun streaks. "If you pick the hair up, it's sort of like a canvas," Rona, a painter and drawer from a young age, informed me. "You see small streaks of color all around." Sunflicking is great, because there's no need to touch up the roots as often. I'm so sold on the entire process, BTW. Roots are the bane of my existence. She simply "tips" the hair, meaning she paints highlights on the ends of the strands. She focuses the lighter area around the hairline with foils to make it a lighter hue than the rest of the hair.
Rona is actually known for her hairline highlights process, because "it makes it look lighter than it is, with more brightness," Rona explains. "Highlights on brunettes is a lot of work so i started using this technique over ten years ago."
Does Rona do this on her own hair? "I sure do!" she exclaimed.
Rona told me she loves to layer colors on. For Daisy, she painted her hair a lighter brown a couple months ago and then recently painted the tips. The plan is to go just a little lighter each time. "It takes me five minutes to an hour… then we're done," Rona said. Next, she adds some toner to tone down the brown with a gloss.
Rona's husband and partner, Luke O'Connor, styles Daisy's hair. He is also responsible for the fabulousness that was Debra Messing's hair on Will & Grace and used to be the national spokesperson for the now defunct Thermasilk line of products (Thermasilk, I miss you!). For Daisy's hair, Luke used a 1 3/4″ curling iron in big sections. "It's actually not necessary to straighten first," explained Luke. My weekends will suddenly seem so vast, I think to myself. "The curling iron will smooth the surface… you can take a one inch iron and take a large section for loose waves." This time, however, Daisy requested extra smooth hair, so he blew it out first with a round brush before separating Daisy's hair into about six sections. The smaller the section, the more curl produced. On using the clamp vs. not, Luke is pro-clamp, but winds the hair around the outside of the iron. After each section is curled, Luke recommends clipping it with clips like these while it cools for about 20 minutes. Rona said that when she does this on herself, she applies makeup while her hair is setting. Rona also recommended clipping up the bangs/front area of the hair for extra volume and even pulled some out of her purse – she keeps them on her at all times. "I wear them in the car on the way to events," she explained.
Lastly, Luke says to spray the hair with hairspray before and after. In fact, during Daisy's shoot (pictured above), he was so prepared he even had a comb and a mini Elnett tucked away into his jacket pocket.
Want to experience Lukaro hair for yourself?
Lukaro Salon
323 N. Beverly Drive
Beverly Hills, CA 90210
Tel: (310) 275-2536
Fax: (310) 247-2994