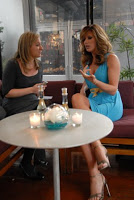 I'm on the left interviewing Daisy at the Gansevoort Hotel. This was clearly not my most photogenic moment, but OBV, I have to post a pic of myself with Daisy.
With its interlocking stacked packaging and oceanic color palette, this perfume bottle will sexify your boudoir in addition to your scent. See all the way below for what's in the perfume. I was beyond excited to be asked to meet with Daisy for an exclusive blogger interview at her fragrance's launch party last night at Ono at the Gansevoort Hotel. I totally agonized over my outfit choice (it had to somehow be business casual – I'd come from work – yet worthy of interaction with a supermodel… not so easy, right?) but was totally delighted to meet one of my fave TV personalities face-to-face. And? Daisy rocks blue like no one else can.
Daisy was born in Cuba and moved with her family to Madrid, Spain when she was three years old before finally immigrating to Harrison, New Jersey four years later. She hasn't been back to her native country, however. "Even if I were to visit, all my money will go the government. I don't have any family there, so I don't bother." But Daisy was inspired by Havana in the 1950s, a totes glamorous era when everyone who was anyone was there – Frank Sinatra, Ava Gardner, Ernest Hemingway. What better inspiration for a summer scent? The scent itself provides a feeling of flared skirts that absolutely require dancing worn with scoopy-backed shirts.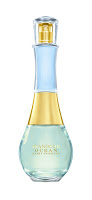 "I loved to layer scents and would think to myself about which ones would work together," Daisy said. Dianoche Ocean actually produces several fragrances. If you let one dry out and then add another, you can get a different scent. If you let them both dry out separately and then combine them, you get yet another. You have the ability to create at least five, depending on how you apply them. Her reasoning for creating a two-in-one fragrance bottle is that "when you leave the office to go out for a date, you need a different fragrance." I plan to keep an atomizer of this one at work for sure.
The scent is intended for "any woman who wants to be sexy," Daisy explained, matter of factly. "Anyone who GETS it." As for how this fragrance ties in with her clothing line for Kohls, Daisy says, "It's all goes together. I have a magnificent brand manager, and her job, along with mine, is to make sure every piece makes sense together." Daisy has certainly proven herself in this all-too-competitive business.
Daisy is working with Beauty Bank to develop a cosmetics brand as well. Stay tuned for that, girls. Says Daisy, "I was always that girl who did my friends' makeup when we got ready and I would rarely have time to do my own! All of my girlfriends looked like supermodels, and I was the ugly stepchild." [I ASSURED Daisy this was definitely not true. The woman is GORGE in person.] In fact, I even found out that she was considering going to beauty school while enrolled in a communications program in college but MTV offered her a position as host of MTV Internacional, which later became MTV Latino, and she eventually was offered a job at MTV US.
As for my event swag bag? The highlight was a supercute elongaged purple clutch with a hot pink interior and some big diva shades from the daisy fuentes collection for Kohls.
Here's a quick rundown of the two fragrances:
Dianoche Ocean Day evokes an instant Caribbean vacay with its alliance of mojito accord, bitter orange and watery splashes. The heart is beach flowers, orange flower, jasmin sambac and a touch of tiare petals. The dry down consists of creamy woods and sandalwood blended with warm skin accord. To me, it's a light summer fragrance that's warm without being musky (I loathe a musk) but sensuously feminine. Apply and envision sipping drinks poolside.
Dianoche Ocean Night is feroshly sexy… but still manages to be a perfume as opposed to a PERFUME. The fragrance opens with notes of bergamot, bitter orange and dewey greens (green scents are my FAVE). The heart is a luxe landscape of vanilla orchid, jasmin sambac makes another cameo, gardenia petals, beach flower and meringue accord. The dry down is a warm blend of coconut water (accounting for the tropical vacation aspect) and sheer patchouli (but not so much that this in ANY way smells hippy-ish) mixed with golden amber and warm skin accord.
Dianoche Ocean is going to be sold at Kohls and kohls.com. Doll that Daisy is, she introduced me to Luke and Rona O'Connor, the couple who are responsible for styling and coloring (respectively) her PHENOM hair. Stay tuned for details on that this week.