My friend Amber is one of my BEST friends. We've been friends since 1998 when we were in the same class at BU even though I was totes hesitant to let someone into my lifestyle with my formerly unique name. I felt sort of like Buzz Lightyear did when he found out he was mass-produced. You know? Anywho.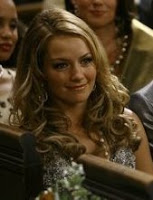 Amber and I ALWAYS have the same fight. She LOVES a light, shimmery pink gloss. And who doesn't? She has the right coloring for it (blonde with blue eyes) but she sometimes chooses one that even Norma Arnold herself would dismiss for being too pearlescent. The city limits between Amanda Sommers (pictured, left) City and Magdaville are so vague. The good news is that I've identified a PERF pink gloss.
Dior Ultra-Gloss Reflect in Tinsley Pink


I already notified you of the launch of this shimmery bubblegum pink gloss. I got to test it out yesterday and I am lurving it. It manages to be girly and fun without being too light, nor too silvery-reflective a la Magda.
Also, if you live in NYC, read on:
Tinsley Mortimer, the socialite who is the gloss's namesake, will make a
personal appearance at Saks NYC on Thursday May 15. Attendees can meet Tinsley and learn how to recreate her favorite day and night beauty looks using Tinsley Pink Ultra-Gloss Reflect. A portion of the proceeds from Tinsley Pink will
go to Operation Smile.

Thursday May 15th
12pm – 2pm
4pm – 6pm Masterclass – by appointment only
Call 212-940-2181 to call to reserve
*Between 2 and 4 Tinsley will be greeting customers on the floor