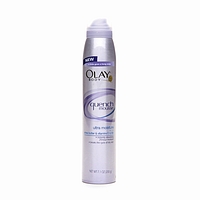 I wasn't prepared to like Olay Body Quench Mousse ($8). It lay dormant in my stash waiting for me to choose it but I was simultaneously intrigued and put off by its mousse consistency. Like any child of the 80s with curly hair, I am VERY used to mousse. I'm not saying it doesn't work well, I just loathe the tackiness it leaves on my hands in its wake and on the floor when I spill it (I'm a mage spiller.) I was thinking, how can a mousse which makes things tacky and sticky, fulfill my expectations of a moisturizer, that is to say, make me hydrated and smooth?
Last night, I gave it a shot and it indeed WOWED me. It goes ON like a mousse, but its consistency is nothing of the mousse ilk. So it looks like a mousse but feels like a lotion. It's light so it absorbs swiftly and contains shea butter to hydrate skin all day. I LURVE. The fact that it'll only set you back $8 means you must try it for yourself immediately.
Isn't it appropriate, since we're speaking of mousse, that I share with you some MAGE news about the remake of Teenwitch that is going to be produced? My friend Hadas, purveyor of all of my entertainment news just notified me. This movie is the reason that I even INVOLVED myself with mousse in the first place. As an impressionable nine year old, this movie indicated that mousse, shorter skirts, and a lot of denim ruffles was a one way ticket to Popular City.
Plus, remember this gem of a scene?
I'm hot and you're not, but if you want to hang with me I'll give it one shot.
Top that,
Fabulista