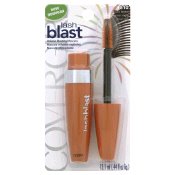 Oiy, ladies. Last night was a bit too epic for me. I met my friend Amber for a drink at her apartment, then headed uptown to Diablo Royale for Mexican dins for her sister Shelby's birthday and then "crashed" a Wall Street party at Nobu 57. There was a lot of champagne involved. It's definitely not coming together here at BBJ HQ today.
But on to the beauty news… I have to tell you about CoverGirl Lash Blast ($8). So I received a sample of the fabled Lash Blast right before I was moving into my new apartment. My move, BT dubs, took place during Fashion Week while I was also working at my full-time gig, while ALSO working on a freelance consulting project. It was mildly chaotic, to say the least. So product samples were coming in at a feverish pace due to the sheer amount of Fashion Week events and in order to manage my stuff I had to move, I bequeathed my enorm Lash Blast (it's roughly the size of the a toilet paper rod) onto my friend Lauren. I was intrigued by it, but it comes in such large packaging and I felt so overwhelmed, that in a rare bout of Buddhist behavior, I gave away a promising product. The next day, Lauren and I went to a movie and I was criminally jeal of her faboo lashes. "You are SO sorry you gave me that Lash Blast," she reported. "It's the best mascara I've ever used."
I was sorry. I couldn't believe I'd passed up such a gem. But the fabulous Rena, publicist for the brand, heard my plea and sent me two more bottles and I am ADORING it. This mascara is just as good at lengthening as it at volumizing. It is truly the best drugstore mascara (and there are actually several decent ones) I've EVER tried. It's entirely clump-free so you can load it on with wild abandon. It stays on all day with nary a smear and yet it removes easily with face wash. No need for separate eye makeup remover. I did find it sort of straightened my naturally curly lashes… but if I were less lazy, I'd simply just recurl them post-application with my Shu. It boasts an absolutely enormous rubber-bristled brush – nearly the size of the one I use to do my HAIR. It literally defines each lash to perfectsh. Lurve. Get your hands on one immed if not sooner.