Hey, gals!
How was your weekend? Mine was fab, thanks for asking. I did some work, caught up on some Colbert Report eps, and did a lot of brunching. Saturday was with my friends Lauren and Emily and Sunday with my friend Stacey and her BF Paul. Paul, BTW, is a phenom sports writer. Check out his latest piece on my favorite basketball player EVER, Dikembe Mutombo.
So, it's a known fact that I am seriously not into sweets. I crave french fries far more often than say, an Oreo. I was "blessed" with a palette veering more toward the salty persuasion. I say "blessed" because the minute I ingest any sugar, I become ridic fat. So I prefer to indulge, on occasion with candy-scented beauty goodies. Here are my recent faves:
Carol's Daughter Candy Paint in Grown and Sexy ($13.50)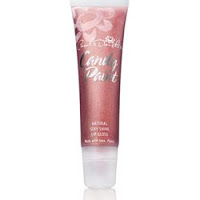 This gloss is a hot pink with gold shimmer. The brand's copywriters hilariously inform you that this color "lets everyone know you can handle your business." That it does. This non-sticky gloss is free of parabens, mineral oil, and petroleum. You'll be hooked on the peppermint flavor. Best of all? A portion of sales is donated to the Lupus Foundation of America. Your lips will look fab, and you'll be DOING something fab. What's better than that?
Jaqua Buttercream Frosting Sinfully Rich Body Butter ($22)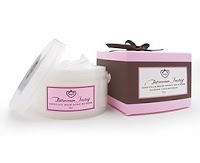 Sin is in. One whiff, and you'll agree. Jaqua mentions that this decadent cream was requested by Christina Aguilera during her pregnancy and I can totally understand why. It smells like a delish cupcake. It not only smells delectable, but it's also a rich, creamy moisturizer that eradicates rough patches and smooths skin utterly. I love it for winter hydration.
Klean Bath & Body Devil Made Me Do It Body Polish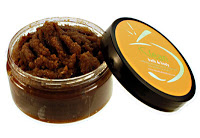 I insisted my mother smell this DIVINE fresh-baked Devil's Food Cake-scented scrub and informed her I was worried I was going to actually try to eat it. She smelled it for herself and agreed. Don't worry dolls, it won't actually come to that. And even if it did? These are the ingredients:
fresh brown sugar, pure unrefined Mexican cane sugar, vegetable glycerin (humectant), shea oil; one or more: apricot kernel, sweet, almond, rice bran, sunflower and castor oils, cocoa & fragrance.
Save for the fragrance, they're all edible.
What are your favorite beauty confections? Tell me in the comments!
The season premiere of The Hills is on tonight! I am counting the minutes.