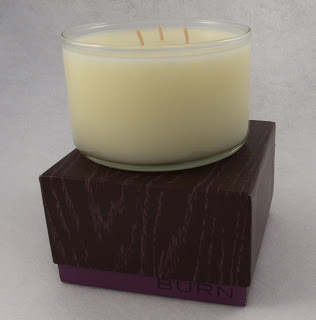 A mini sci lesson: the term "stone fruit" can be a synonym for "drupe", a fruit in which an outer fleshy part surrounds a shell (the pit or stone) of hardened endocarp with a seed inside.
I'm not typically so into the way things are packaged in the box. I'm usually pressed on creative PRODUCT packaging. But I'm smitten with the faux wood box and the translucent plastic woodgrain sheet under which this candle is packed. And the candle itself? Packaged in a clear glass jar and boasts THREE wicks! From the sportygear website: BURN candles are comprised of wide and low slung bowls not only because [co-creator Robin Coe-Hutshing] found that appealing, but because the wide mouth and trio of wicks creates the largest pool of wax on the surface of the candle. This expanded radius allows the greatest amount of 'throw' of fragrance into [the atmosphere] for over 100 hours. It smells like a fresh nectarine. Yum, yum, yum.
Being that it is the perfect housewarming gift, and I've just moved to a new apartment… I think I'm going to bestow this little pres on myself. Why, thank you!
BURN Candles are available for $55 (kind of pricey, but worth it!) at www.beautyhabit.com as of April 1 and at Fred Segal Studio in Santa Monica, CA.