I've been tagged by Shopalicious! to do a book meme!
The rules are:
a) Pick up the nearest book of 123 pages or more.
b) Find page 123.
c) Find the first 5 sentences and read them.
d) Post the next 3 sentences.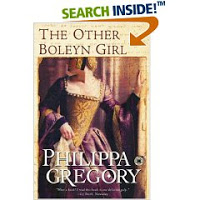 The closest book at hand is the one I'm currently reading, The Other Boleyn Girl, by Philippa Gregory.
At once she twisted it behind my back and held me so that I could move neither forward nor backward but only cry out in pain. "Anne! Don't! You're really hurting!" "Well hear this," she hissed in my ear. "Hear this, Mary. I am playing my own game and I don't want you interrupting. Nobody will know anything until I am ready to tell them, and then they will know everything too late."

I just started the first chapter today, but uh… I can't WAIT to get to this part. Sounds pretty dramatic, n'est-ce pas? My goal is to read the book before the movie premieres on February 29th.
Now, I'm going to tag makeuplovesme!
Photo credit: amazon.com