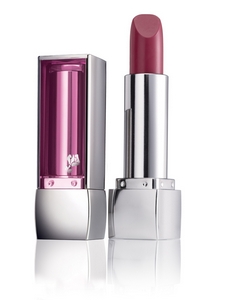 The fourth and final lipstick in the Pout-à-Porter designer lipstick series makes its hotly anticipated debut today on lancome-usa.com. Lancôme Color Fever Shine Lipstick in Pixel Pink is a beautiful sheer raspberry shade created by celebrated emerging designer Thakoon and celebrity makeup artist Gucci Westman for Thakoon's Spring 2008 show.
The color came together at the hair and makeup test only days before the Spring show. Thakoon wanted something simple yet pretty that would complement the lush greens, pinks and blues in his collection, as well as the unique prints. One particular print, a pixilated floral that almost appears to have been faxed through a machine, was a key influence on the lipstick.
Beginning yesterday, Pixel Pink will be available in limited quantities on lancome-usa.com and on March 1st it will debut exclusively at Neiman Marcus, Bergdorf Goodman and Lancôme's five U.S. boutiques with a suggested retail price of $25.
Pout-à-Porter is a celebration of Lancôme's support of emerging designers. The previous three lipsticks were created for Behnaz Sarafpour (Fall 2006), Proenza Schouler (Spring 2007) and Peter Som (Fall 2007).
Gals, I'm loving this color! I can't wait to get my hands on some Pixel Pink myself.
Photo Credit: Sean Cunningham