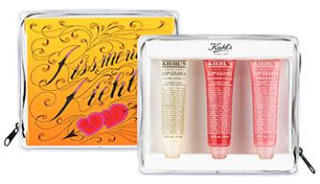 Kiehl's has partnered with a New York tattoo shop for Valentine's Day. Their online and in-store customers will receive Kiehl's temporary tattoos. Kiehl's in-store customers can also customize their own lip gloss trios!
Kiehl's has enlisted New York Adorned, the collective tattoo shop and jewelry store that's right down the street from their New York flagship (Fabulista ADORES this Kiehl's store… great samples, too), to design tattoo-inspired window and in-store displays to introduce Valentine's Day and their new products. These images have been made into temporary tattoos, which will be passed out with every purchase for our customers to enjoy. The tattoos will also be included in every purchase on www.kiehls.com.
Kiehl's will be offering Lip Trios, which can be purchased in two different ways:
Kiehls.com
Kiehls.com will be offering three different assortments of Kiehl's Lip Glosses in a gift set adorned with the Kiehl's tattoo art. Customers can choose from an assortment featuring our two new shades, French Rose and Downtown Peach, along with classic Clearly Kiehl's, a Warm assortment (Downtown Peach, Pear Tree, Berry 1851) or a Cool assortment (French Rose, Pink Rider, Icy Everest). Each trio is $43.50.
In-Store
Kiehl's stores are offering customizable lip trios. Each pack can be customized in-store with your chosen assortment of Kiehl's Lip Gloss, Kiehl's Lip Balm or Tinted Lip Balm (a Fabulista favorite).
Enjoy!