It's official, my 5 year relash with Bumble and bumble is over. I am smitten kitten with Michael Ulm at the Ted Gibson Salon. Not only is he welcome eye candy (he's ridic cute), he trimmed my damaged ends and even convinced me to change the cut from an inch to two inches after he pointed out with a mirror that the last two inches in the back of my hair were not adding anything to my lifestyle. They were thinner than the rest of my hair and were just… scraggly. Michael was over them and so was I. And yet, he's SO not scissor happy – this guy ACTUALLY knows how to measure. To him, two inches really is TWO INCHES. Such a rarity. My hair is now bouncier and thicker-looking. AND doll that he is, he told me to stop in whenever I need a bangs trim and he'll make it work in true Tim Gunn fashion by fitting me in quickly for FREE. And the blowout was nothing short of phenom – and people noticed. If you're in the New York area and in need of a new stylist, I heartily recommend him. Tell him Amber/Fabulista sent you. You'll also adore the unpretentious yet luxe feel of the salon.
In other news, Karen MM has won the Bruno Jamais gift certificate/David Scott Cosmetics giveaway! Congrats, Karen! Email me your address and I'll send you your gift, stat!
Speaking of contests, this is the last week to participate in the Face Wash Week contest – send me 80s song titles you think would work that involve the words clean, fresh, wash, and face for a chance to win an Origins Organics Foaming Face Wash.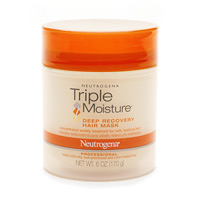 Lastly, my newly coiffed hair is loving Neutrogena Triple Moisture Deep Recovery Hair Mask. Pre-Michael, my hair was in a sorry state and this restorative mask treated my strawlike strands with TLC making them soft and smooth. Just a small amount of this concentrated formula is enough to rehabilitate rebellious Sahara hair.
These three naturally derived extracts penetrate to help moisturize each layer of the hair strand:
* Olive: penetrates to the center
* Meadowfoam Seed: helps moisturize the middle
* Sweet Almond: wraps the surface
At $6.99, what's not to like? Enjoy the rest of your weekend!
Photo credits: tedgibsonsalon.com, drugstore.com