Hi dolls!
I had SUCH a weekend. I finished my freelance project on time without going cra and managed to get highlights while I was in PA. Despite having only one day to myself, I managed to buy a seriously gorge new grey coat at Marshalls WAY marked down. It's a brand I'd never heard of before called Soia & Kyo and I am deeply into it.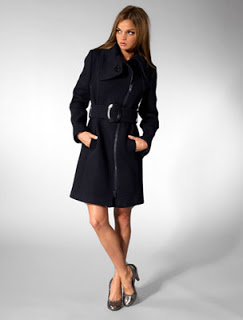 It looks somewhat like this, without the belt and in grey instead of black. P.S. I am coveting that model's hair and eyeliner situation. The good news is the liner at least is recreatable with ck Ultimate Edge Gel Eyeliner. This is my new gel eyeliner du jour. I know, I have a promiscuous lack of brand loyalty when it comes to gel eyeliner. I've already been amorous of both MAC and Bobbi Brown. I prefer ck's new version because it's creamier and goes on a bit more smoothly. It endured two weeks of use and doesn't cake on my liner brush so that I have to wash it every week (let's be serious… who washes their makeup brushes on a weekly?). The silicon based formula is enriched with cocoa butter and micronized pigments. I adore it in Black Ice (pictured below). $16 at Sephora.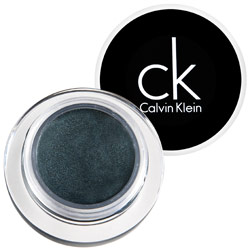 In other news, I got the new apartment! YAY! I'll be moving on February 8, the same week I'm reporting on some fashion week shows (stay tuned for THAT) for totalbeauty.com. It's both stressful and completely fucking awesome. Oh and working my full-time ever more stressful, increasing levels of responsibility regular gig. That, too. February will be busy! I'm looking forward to it, though. Hope everyone had a fantastic MLK day!
P.S. I saw Cloverfield and was WILDLY impressed! Despite its cast of nobodies, the movie was really, really good. My only complaint is that its Blair Witch-style home movie-ness made me TOTALLY nauseated. Like, I had to breathe deeply through my nose and look away during most of the movie. If you're prone to motion sickness, see it on DVD.
Photo credits: revolveclothing.com and sephora.com.