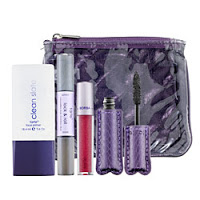 tarte's We Wish You Health Skinvigorating Discovery Kit is a fantastic compilation of gloss, mascara, face primer and chic eyeshadow, all specially formulated with ingredients to enhance both your looks and your health.
The real gem in the collection (and there always is one) is the inside out gloss in serenity. I love a sheer red gloss moment, and this one DELIVERS. It appears red in the bottle but is really sheer with a touch of shimmer. And, it's powered by Borba, maker of nutraceuticals and cosmeceuticals. Mine's almost gone and I'm already suffering separation anxiety. It's non-sticky and tastes of fruity delishness.
clean slate is a primer that contains Avocado and other oils to moisturize and revitalize your skin naturally. It's much like Sephora's Photo Finish Primer in that it hides imperfections and smooths out skin texture. The size is perfect for travel.
lock & roll eyeshadow in slate was a delightful little surprise. There are two different methods of application, roller and brush. The brush applicator is like a creamy paint. Though I haven't eschewed powder eyeshadow yet (it's the one powder I'll allow on my face – powder is AGING, friends), I always take an opportunity to try out a liquid or cream one. The color is a shimmery tinsel that is just begging to be worn to a post-holiday party. Maybe even one where Kir Royals are involved. Who can guess. The other end of Tarte's lock & roll is marked "loose" with a roll-on applicator. The loose one is not as long lasting, but still provides a shimmery, silvery effect.
Finish off the look with mini lights, camera, lashes! 4-in-1 mascara in cute purple casing that matches the pouch everything comes in. Made with ProVitamin B5 to treat and thicken your lashes, this stuff curls, lengthens and darkens. I keep it in my purse for those why-do-I-look-like-a-man-oops-I-forgot-my-mascara-again days.
All of these items would cost you $50 separately, but you can get Tarte's We Wish You Health Skinvigorating Discovery Kit at Sephora for the special price of $30, recently marked down from $38. Dolls, get on that. It's limited EDITION.
Photo credit: sephora.com