It's not a good week again, friends. I got a call from Ramon's vet yesterday and she outlined all the numerous things causing his sickness… everything from kidney problems, to possible cancer, to fluid in his abdomen, to heart disease, to extensive liver damage, which caused the other illnesses. She told me they could do several invasive surgeries/tests to find out what's wrong with him. He'd have needed at least $10,000 worth of medical treatments/surgeries/tests/biopsies and even if we medicated him for all his ailments, she gave him a prognosis of 6 months to a year. She said he wouldn't be in pain for that time, but his quality of life would diminish severely. I had to make the hardest decision of my life. Last night, I had him put to sleep and I'm embarrassingly devastated.
I went to see him and say goodbye with my roommate Carrie in the hospital and left before they did the procedure, I couldn't handle it. He was only 6 years old, I once had a guinea pig who lived longer. I had to settle up his bills for all of the work they'd done on him Monday/Tuesday and even that was far more expensive than I'd anticipated, but I'm glad they were able to help him feel better (his blood pressure was low when I'd taken him and and he'd been severely dehydrated from not eating all week, but he'd been restored at least in those areas) in his last day. Happy F'ing Hannukah, right? Thanks to those who have left comments, contributed, and called, and especially to Carrie for accompanying me last night to the pet hospital. Here's a pic of a healthier Ramon this May: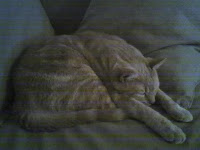 And here's a picture of him snuggling on the couch with his sister, Simone: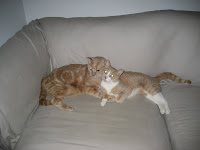 Simone and I both miss him painfully. She has been looking for him in the apartment and crying. It's SO SAD. Ramon liked smelling any new people or purchases to enter the apartment, biting the plastic handles on trash bags, seeing what was in the refrigerator, eating (until his last week), and guarding the front door like a big burly bouncer. He also loved shoes, bags, and boys. We had SO much in common.
What can you do, right? I haven't worn much makeup in the past few days, but I have been toting my C.O. Bigelow Orange Cream Mentha Lip Shine as a tribute to my orange friend Ramon. It tastes delish and adds moisture and shine, all at once.